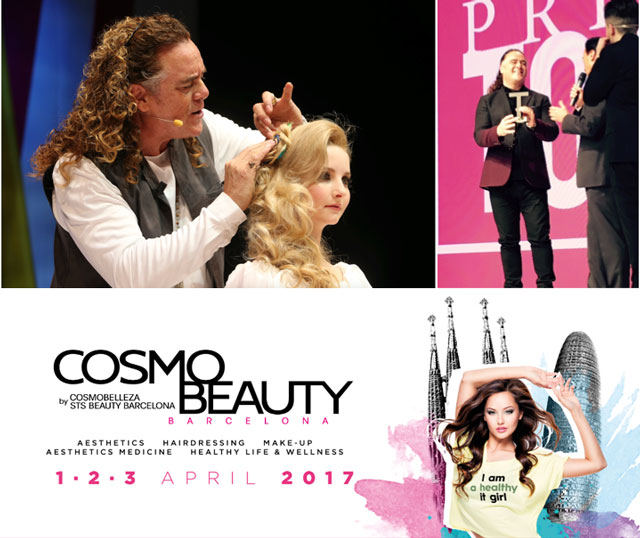 PATRICK CAMERON, the great UK hairstylist, appeared at two of the leading European trade fairs presenting his 2017 collection, 'Goddess'.
First stop was Top Hair in Dusseldorf, where Patrick took to the stage in the main theatre to present his ethereal 'Goddess' collection, first launched to great acclaim at Salon International.
After the show was over Patrick and his team headed to the airport and took the plane to Barcelona where not only was he presenting 'Goddess' on stage at COSMOBEAUTY, he was also presented with the Tocado Award for International Hairdresser of The Year.
The Tocado Award presentation took place at COSMOBEAUTY Barcelona. The awards recognise the greatest talents of the national and international hairdressing world and are a fantastic opportunity for professional hairdressers to come together and celebrate the creativity and art within the hairdressing industry.
The show included a parade of all the short-listed collections, followed by the announcement of the awards, which are made up of the following categories:
New Generation Award
Tocado Award for the Woman's Collection of the Year
Tocado Award for the Men's Collection of the Year
Avant-garde Tocado Award
Tocado Award for Best Photography
Tocado Award for Hairdresser of the Year
British based Patrick Cameron, known for his tremendous skill and passion for long hair, is an inspiration to so many hairdressers around the world and on the night, was presented with the prestigious Tocado Award for Hairdresser of the Year. The Tocado Award for Hairdresser of the Year rewards the work of international hairdressers and the judges proclaimed Patrick as a very deserving winner. At the awards presentation, Patrick was also given a personal thank you from Santi Torras, President of COSMOBEAUTY Barcelona for his participation in the catwalk show at the exhibition.
For Patrick, winning this award is a fantastic achievement and it highlights the respect he commands the world over for his innovative and imaginative hair work. Patrick commented, "I feel very grateful to have been chosen to receive this award. Providing inspiration, education in the latest techniques and showcasing stunning photographic collections to hairdressers globally is something I love to do and to be rewarded for that is fantastic."